Dear reader,
after a week of more turmoil in the eurozone, where Greek 'bank jog' as Paul Krugman called it is taking place in Greece, more uncertainty is caused by obvious inability to form a new coalition government there and have new elections instead, Spanish turmoil now shifting from those indebted regions to government debt and deficit problems to its banks, the author wants to send out another reminder:
(another excellent chart by Scott Barber/Reuters)
As anyone can see, current US growth doesn't grow on trees, but is a result of uninterrupted growth of industrial production still on recovery path after the big dip of 2008/2009. Whereas the EZ is still facing further decline because of ever more 'internal problems' of not only excessive state debt, but also looming Greek Euro exit. Spanish state & bank problems and one crisis is hitting the focus of world wide attention after the other. Crisis focus changes almost on a weekly basis , and at one point even the Netherlands was in the focus of attention because of its breakdown of its cabinet and another year with a deficit far greater than the rules allowed was looming 2013 also. At least the latter crisis fire seems to have been extinguished.
Only good news is that German growth just hindered the complete EZ to be officially called 'in recession' and that's how German production looks like: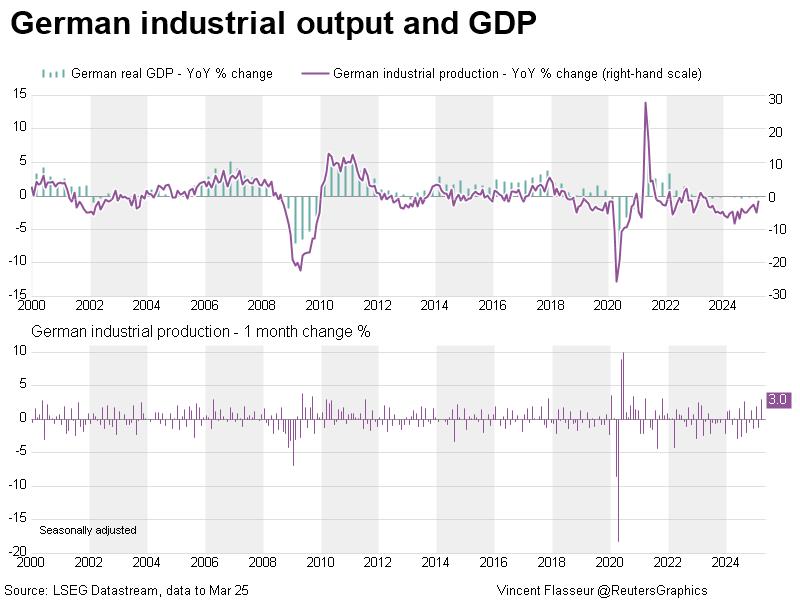 (chart by Scott Barber/Reuters, linked to datastream.com)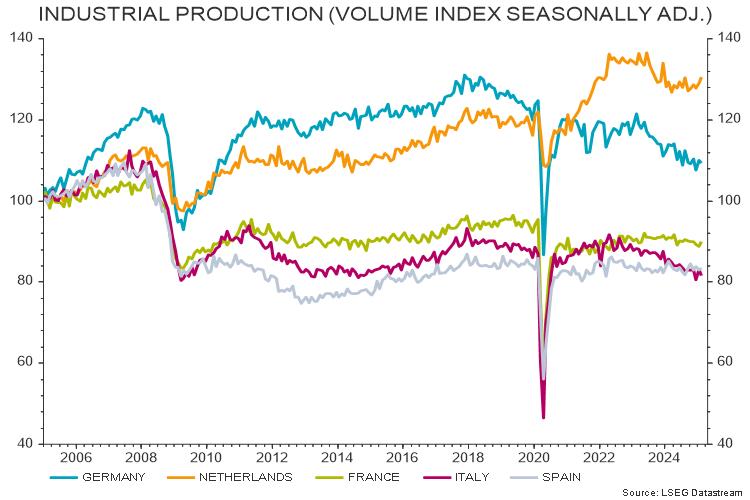 (chart by Thomson/Reuters, liked to datastream.com)
BUT: Germany not only attracts more and more capital fleeing the South and expressing in ever lower record yields on German bonds across the board, short term nearing the magic zero, but also is cutting its traditional trade links with the other EZ members as two articles in German explain:
Germany separates itself from the eurozone (
NZZ.ch) (ger)
EU share of German exports at a 20 year low
(Welt.de) (ger)
So after reading those reasons for continued success of Germany combined with an article of the
EBRD
-the European Bank for Reconstruction and Development:
Developing countries continue to lead trade growth – report
it should be clear that European recovery path doesn't grow on trees either, but might come from increased activity in not only trade but also investment in other regions of the world. Would be convenient to have the
EIB
with a banking license from ECB and unlimited access to funding by it. A proposal going in that direction the author found here:
EFSF Leverage: A Rundown
An investment bazooka to be repaid by optimizing European infrastructure and e.g. saving ever more precious fossil energy and by raw material imports from those external trading partners. Some calculations on using the reduction of imported energy bills will be published later, but you may already assume that they are huge, considering current oil prices and IMF's gloomy forecasts.
Since the only resource Europe isn't lacking are the number of politicians currently still busy fighting each other on various levels and issues such as 'growth vs austerity', it wouldn't be a bad idea to come to an agreement to suspend infighting until Euro crisis is over and to form three transnational crisis teams focusing on:
1.) structural reforms, budget controls of member states, see that the fiscal treaty is ratified smoothly in various member countries. Maybe a task for the EU conservatives.
2.) to look for EU sources of growth e.g. by using EIB but also by breaking up old structures that impeded member countries such as Italy and Spain to develop open labour markets.
(maybe by consulting also the Liberals)
Look for Denmark
as an example
where labor isn't cheap, but very flexible. A task more suited for social democrats, but in some countries they have to abolish ancient old beliefs.
3.) A combined team exclusively looking after EU external affairs , not only politically such as in the question of how to support countries of the EMEA region after they overcame local dictatorships in order not to let them crash economically, but also looking into more dedicated approach to develop new trade links to some continents like Africa and Southern America (
the latter please by involving Canadian and US partners as well)
. A more constant base in those regions by EU representatives combined with individuals from various EU countries seems to be a good idea. When there is constant funding available for projects it is even better.
As for the
(in comparison)
minor problem of the Greek situation there is preparation for another blog entry suggesting the takeover of Greek central bank by ECB following the example of Bundesbank taking over East German banking sector in 1990. If the situation is deteriorating further and it is desired by other EZ members to keep it within the common currency.
related articles:
If the eurozone is serious about growth, it can have it